Post For Rent offers a powerful suite of agency software designed to help influencers, brands, talent, and digital agencies manage campaigns with ease. Now, they have taken the plunge into cutting-edge technology by integrating OpenAI's GPT-3 Model into their software platform. Furthermore, they also had ChatGPT write the code for their API integration as well as their announcement posts on their socials. With integrations offered by Post For Rent come great opportunities for marketing executives when it comes to utilizing AI-powered analytics in their campaigns and minimizing the invested time on the operation side of their work. "I haven't been this excited about a software update in a (very) long time. Our software development team has used and worked with the best AI/ML cognitive service providers since we started in 2016. The possibilities we have discovered since and through the integration process of GPT-3 are just unspeakable. By utilizing tech solutions provided by GTP-3, agencies will not only be able to enhance multiple core workflows, but also provide their customers with a much better overall experience, which is sure to result in increased customer satisfaction levels worldwide. I'd say GPT Models won't replace you. Companies using GPT Models will replace you. We will definitely keep implementing more and more new features built on top of GPT Models." says Gergo Csiszar, founder and CEO of Post For Rent.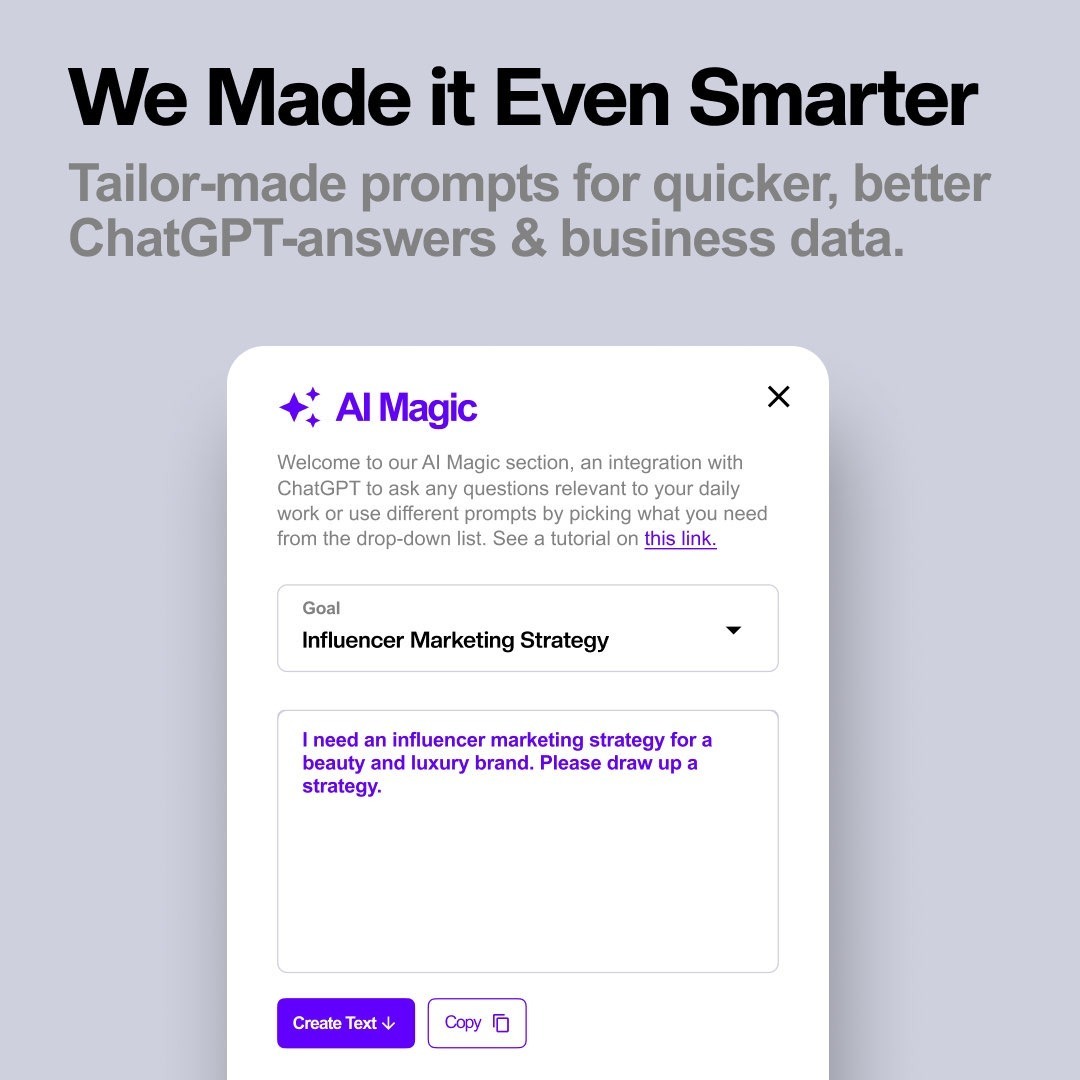 Post For Rent GPT-3 Integration
What is ChatGPT, and what is the GPT-3 Model aka 'Text-Davinci-003' that Post For Rent is introducing for their clients? ChatGPT stands for Conversational Graph Parsing Transformer. It is an advanced AI-powered language model created by GPT-3 OpenAI. This language model was developed specifically for natural language processing (NLP) applications to help people understand how AI technology works and be able to use it more effectively in their day-to-day. Post For Rent has recently introduced its GPT-3 Model integration, which is slightly more advanced than ChatGPT. The company integrated the 'Text-Davinci-003' model for their Magic AI function, the most capable GPT-3 model by OpenAI. It can do any task the other models can, often with higher quality, longer output, and better instruction-following. ChatGPT and Text-Davinci-003 are both large language models developed by OpenAI, but they have different capabilities. Text-Davinci-003 is a more advanced version of the GPT model - which is known for its ability to generate human-like text - in terms of its ability to understand and generate text across a wide range of topics. In addition to writing code for the API integration and their LinkedIn posts, GPT-3 also provides many other services to Post For Rent, including creating structured content from unstructured data, generating creative ideas for campaigns, predicting potential customer behaviors based on past data, and more.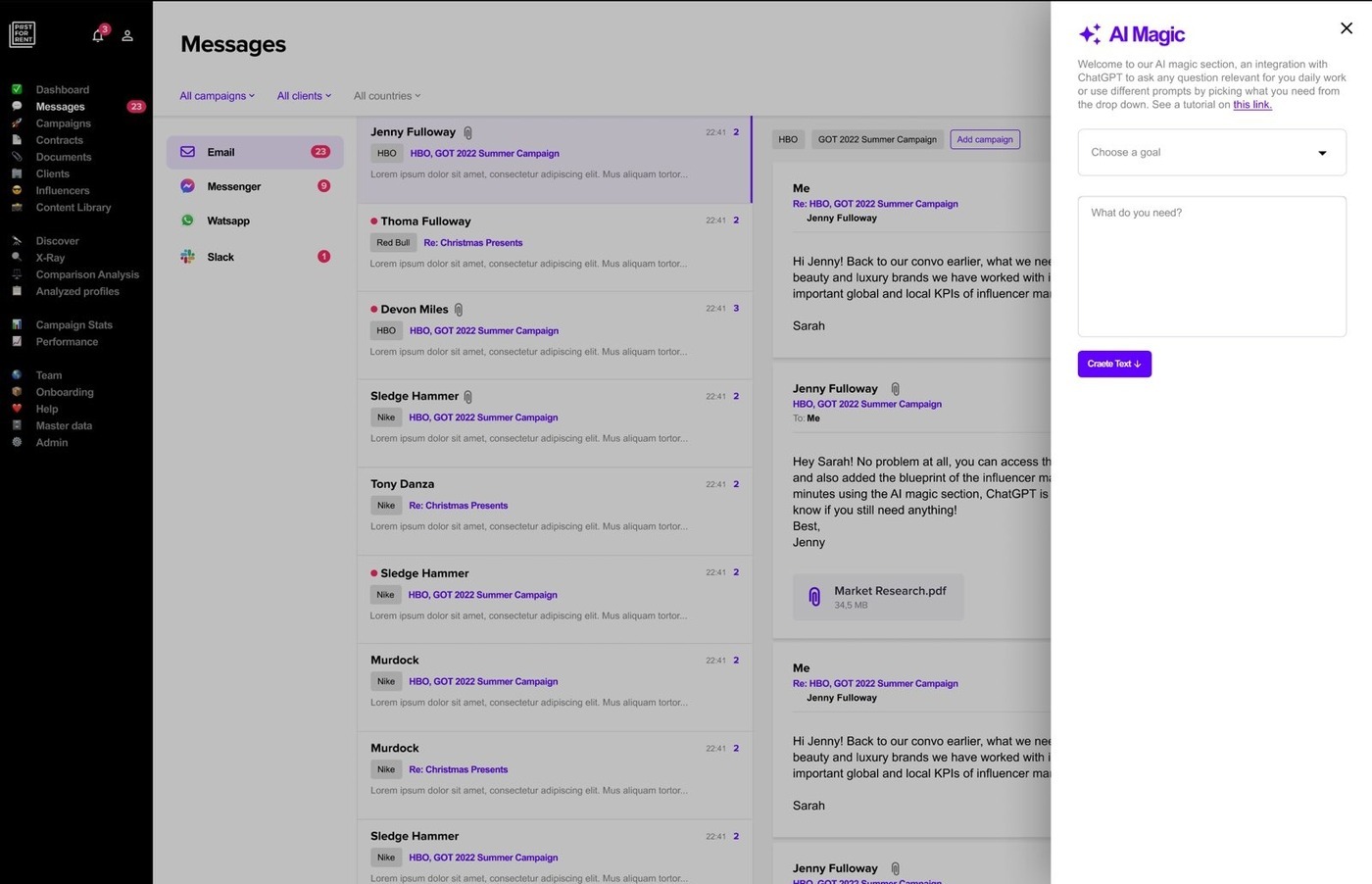 Post For Rent GPT-3 Integration
What Does This Mean For Marketing Executives? The integration of GPT-3 into Post For Rent's NEXT software suite provides many benefits for users. Including improved communication between customers and companies through automated chatbots; streamlined processes due to automated tasks; increased accuracy in data analysis; faster decision-making; faster customer service response times; reduced cost of operations due to automation; increased efficiency; improved user experience; better customer engagement; and more accurate targeting of advertising campaigns based on customer preferences.
This integration is significant for marketing executives industry-wide who are looking to stay ahead of the curve when it comes to using AI technology in their campaigns, communication, and daily operations. In addition to being able to better understand customer behavior predictions based on past data, they can also use the AI-powered analytics provided by OpenAI to make sure that every campaign is perfectly tailored for each individual target audience. Writing emails, conducting market research, creating market strategies, social media copies, and campaign briefs will be done in minutes, which saves up significant time for all executives and managers, and allow them to focus on the most important parts of their work.
By integrating the most capable GPT model into Post For Rent's software solutions, Post For Rent has set itself apart from other influencer tech companies as a leader in AI tech integrations and has spearheaded the movement towards a more efficient industry. By utilizing tech solutions provided by GTP-3, not only will agencies be able to enhance multiple core workflows, but they will also be able to provide a much better overall experience to their customers, resulting in increased client satisfaction levels worldwide.
Media Contact: Post For Rent
Name: Gergo Csiszar
Phone: +31627156625
Amsterdam, Netherland
Original Source of the original story >> Influencer Technology company Post For Rent is leveling up with ChatGPT integration